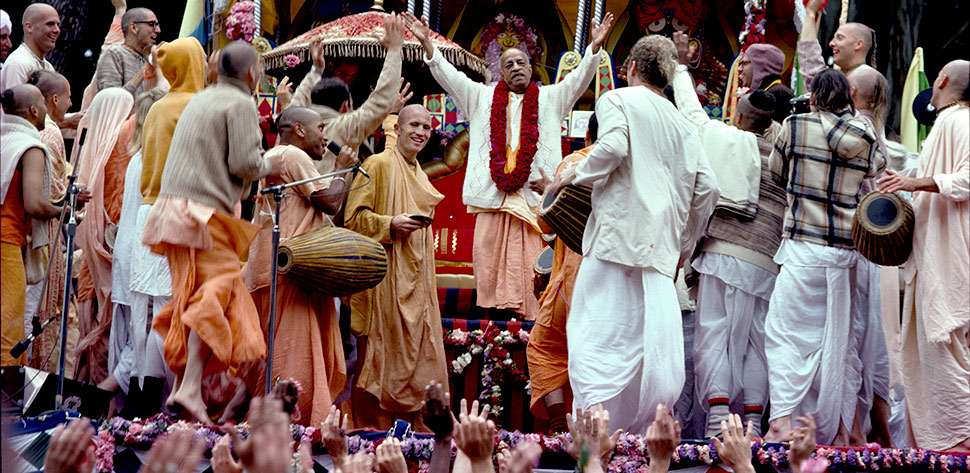 Hare Krishna! The Mantra, the Movement and the Swami Who Started It All
World Premiere

Hare Krishna! is a documentary on the life of Srila Prabhupada – the 70-year-old Indian Swami who arrived in America without support or money in the turbulent 1960s. With his unflinching determination and faith, he ignited the worldwide spiritual phenomenon, known as the Hare Krishna movement.
Suddenly thrust into the raging countercultural scene, Prabhupada speaks of the world's real need – a revolution in consciousness. He teaches that the way to find real happiness is by going within and connecting to your true self. This universal message resonates with more and more people, including musician George Harrison whose hit song "My Sweet Lord" features the Hare Krishna chant. From there, Prabhupada's movement explodes!
This is the true story of an unexpected, prolific, and controversial revolutionary whose books have sold over 520 million copies and has inspired millions of seekers and yoga enthusiasts worldwide. Using never-before-seen archival verite, his own recorded words and interviews with his early followers, the film takes the audience behind-the-scenes of this infamous movement to meet the Swami who started it all.
The second screening does not include a Reel Healing session.
A Q&A with director John Griesser, co-director Jean Griesser, and co-director Lauren Ross follows.
REEL HEALING: Vibrations of Devotional Singing

Join Dasarath and company from the Sedona Center Vedic Culture for uplifting and elevating chanting inspired by Swami Prabhupada. Let your ears do the listening or sing along, but prepare to feel invigorated! We dare you to try and stay in your seats!
Cast & Crew

Technical
Director:
John Griesser, Co-director Jean Griesser, Co-director Lauren Ross

Screenwriter:
Jean Griesser

Executive Producers:
Alfred Ford, Sharmila Ford, Tony Kaye, Janet Kaye, The Debnath/Guhasarker Family, Geoff Fletcher, Jane Fletcher, Johannes Kielmann, Ika Mardiana, Satyanarayana Dasa

Producer:
John Griesser, Lauren Ross, Coralie Tapper, Jessica Heinrich

Cinematographer:
Krishna Sanchez, Adric Watson

Editor:
Krishna Sanchez, Lauren Ross, Hilary Zakheim


Country:
USA

Run Time:
90 min

Year:
2017

Language:
English