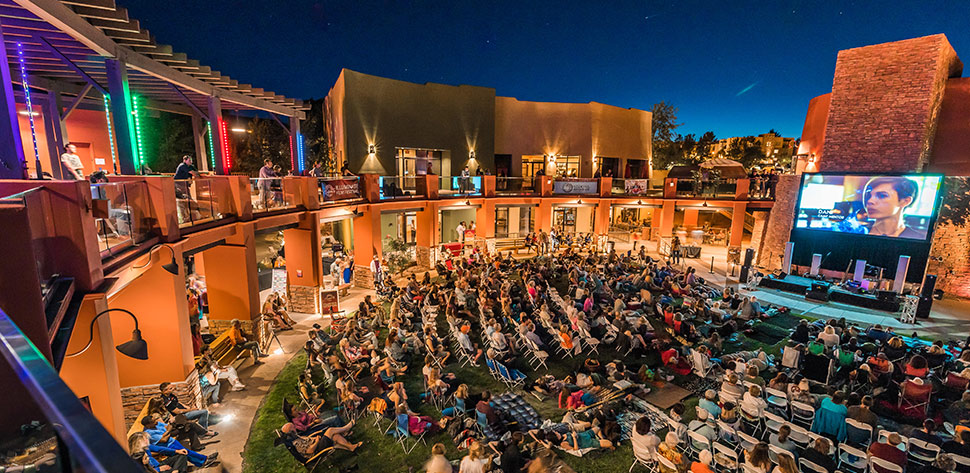 ILLUMINATE Launch Party and Outdoor Movie - FREE
Screening of The Rebound
Sedona Premiere

This event will take place - RAIN OR SHINE. If it continues to rain, we will watch the film upstairs in Vista Hall.
The Collective Sedona, 7000 Highway 179, The Village of Oak Creek, AZ
Additional parking at the Outlet Mall - free shuttle service provided.
Bring a blanket or lawn chair and we'll supply the fun! Enjoy a spectacular night's entertainment under the stars at The Collective Sedona. There's lots to explore here: Indulge in healthy food from our favorite local eateries, check out the cool shops then sit back and be dazzled by performers extraordinaire – Dark Sky Aerial and "Guitar Alchemist", Scott Huckabay. Watch as aerial artists unleash their gravity-defying, creative and reflective midair moves and listen to the rhythmic patterns and electrifying acoustics of Huckabay's guitar. His original music and intricate fusion of rock, folk and blues will rock your world!
Just as the stars come out, so too will the screening of The Rebound.
This night we embark together on our collective journey to higher consciousness. Don't miss it!
Free and open to the community
Food and beverages for sale
Complimentary reception for Badgeholders, 6:30 - 8:00 pm
The Rebound follows the underdog journey of the Miami Heat Wheels, a wheelchair basketball team, in the quest for a national title. Three adaptive athletes rally their team to fight for the championship while confronting obstacles on and off the court. The story is a visceral portrait of the athletes' journey to face life's biggest challenges and realize their dreams.

Launch Party sponsored by: The Collective Sedona
A Q&A with cast member Mario Moran to precede the film.
Cast & Crew

Technical
Director:
Shaina Allen

Executive Producers:
Nick Nanton, JW Dicks

Producer:
Mike Esposito

Cinematographer:
Shaina Allen, Mike Esposito, Chad Andreo

Editor:
Nick Ruff, Shaina Allen

Principal Cast:
Mario Moran, Jeremie "Phenom" Thomas, Orlando Carrillo, & the Miami Heat Wheels
Country:
USA

Run Time:
75 min

Year:
2016

Language:
English