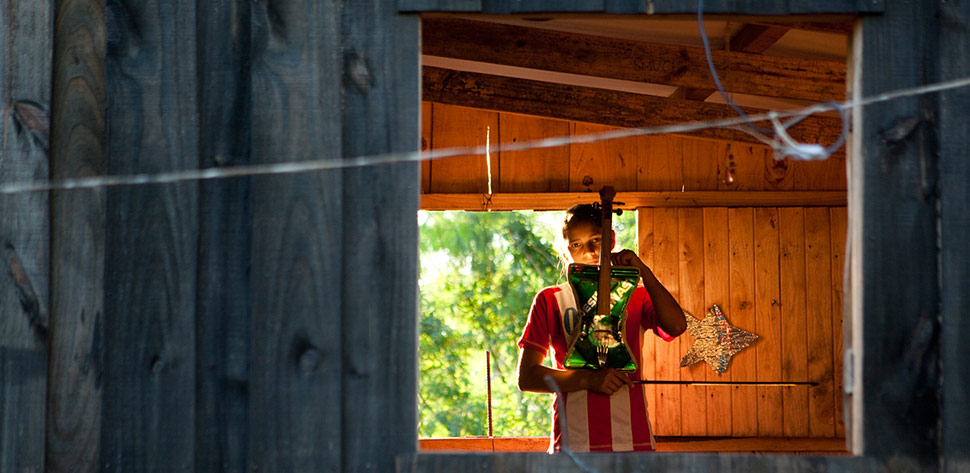 Landfill Harmonic
ILLUMINATE Launch Party and Outdoor Screening - FREE
Arizona Premiere

Bring your blankets and sit under the Sedona starlit sky!

Relax on the grass as you enjoy a fun, musical celebration with healthy food, fascinating performers, talented musicians, conscious vendors and exciting raffle prizes followed by a free outdoor screening of Landfill Harmonic. Sit back and be dazzled by Cirque du Soleil aerial acrobat sensation Delphine Gaillard and performance artist and yogi extraordinaire Lamonte Tales Goode. Let's embark together on our five-day collective journey to higher consciousness through mind–body–spirit cinema.
A worldwide sensation since its spotlight on 60 Minutes, Landfill Harmonic (South by Southwest 2015) is a heartfelt, moving tale of how instruments made from recycled trash bring hope to children whose futures are otherwise spiritless. This empowering film follows the lives of a garbage picker, a music teacher and a group of kids from a Paraguayan slum as their trash-into-music orchestra is catapulted into the global spotlight. Landfill Harmonic is a beautiful story about the transformative power of music that touches the heart while addressing two vital issues of our times: poverty and waste pollution.
Free and open to the community
Food and beverages for sale
Complimentary reception for VIP and All-Access passholders


Sponsored by:

Join us for a Q&A with producer/co-director Juliana Penaranda-Loftus and founder/executive producer/story concept creator Alejandra Amarilla.
Preceded by: Shots of Awe—The Revered Gaze | USA | 2014 | 3 minutes • Documentary Short
Directed by: Jason Silva

Movie theaters have become the new sacred space.
Cast & Crew

Technical
Director:
Brad Allgood & Graham Townsley

Executive Producers:
Alejandra Amarilla, Rodolfo Madero, Belle Murphy

Producer:
Juliana Penaranda-Loftus

Cinematographer:
Brad Allgood, Tim Fabrizio, Neil Barrett


Country:
Paraguay

Run Time:
84 min

Year:
2015

Language:
Spanish with English Subtitles




Trailer