BIG SONIA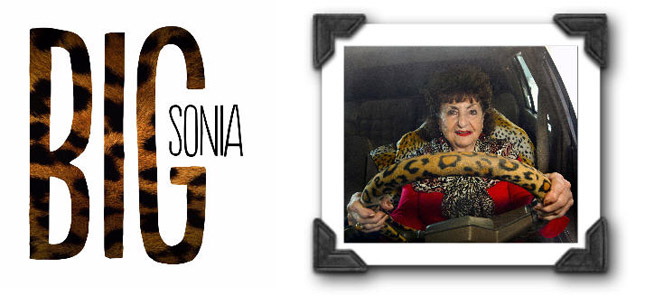 91-year-old diva, businesswoman and Holocaust survivor Sonia Warshawski can barely see over the steering wheel of her giant pink Buick, but her vivacious personality and indomitable spirit are anything but small. She drives herself to work every day at her tailor shop, affectionately deemed "the neighborhood bar and grill minus the booze."
Now Sonia's most important work are her motivational talks in schools and prisons, where her story brings middle schoolers and hardened criminals to tears. "Hate is still growing in the world," she tells them, "but no matter what you've been through, you can choose who you want to be in the future." Buoyed by one woman's fierce determination to transcend a traumatic past, BIG SONIA explores what it means to be a survivor and leaves you inspired to examine your life and cherish each day.
This is a FREE event for ILLUMINATE members, and also open to the general public for $12 / ticket.
Saturday, April 8, 2017, 4pm, Mary D Fisher Theatre, 2030 W. State Route 89A, Suite A-3, Sedona, AZ 86336
Ticket Information
Members get your wrist band at the door to attend the film. Others may purchase their tickets at http://sedonafilmfestival.org or buy them at the Mary D Fisher box office.
Become a member by April 5th and see this film for FREE! See our membership page for more information.
Recent Film Awards
• Best Documentary, Napa Film Festival, 2016
• Audience Award, Napa Film Festival, 2016
• AARP Movies For GrownUps Nominee, 2017
• Best Documentary, Wilbur Award for Religious Communicators, 2017
• Best Local Film, Movie Trip Cinema (Kansas City), 2017
• Runner-up Audience Award, Palm Beach Jewish Film Festival, 2017
Filmmakers
Leah Warshawski, Co-Director / Producer
Leah specializes in producting/directing documentary-style features, television shows, commercials, and branded content in remote parts of the world. Leah co-founded and manages rwandafilm.org, a resource for Rwandan filmmakers and a tool to help grow the ecomony in East Africa. The site is supported by a number of international partners include the Business Council for Peace and The Academy of Motion Pictures. Leah is also Big Sonia's granddaughter.
Todd Soliday, Co-Director / DP / Post Supervisor / Editor
Todd's true passion is documentary storytelling. His recent project include Out of Luck (2015), The Breach (2014), and Finding Hillywood (2013).
Eric Firth, Story Producer
Eric creates films that have screened at top film festivals including Sundance, Toronto International Film Festival, South by Southwest, Seattle International Film Festival and dozens of other festivals around the world.
We look forward to seeing you there!