Year-Round Programs
ILLUMINATE features year-round screenings and programs to keep your consciousness expanded throughout the year!
Upcoming Events and Programs
CineMatters Series
In our 2018-19 season, we're launching a year-round CineMatters Series, a curated collection of single night screenings of the year's best conscious films paired with exciting events, immersive Reel Healings, illuminating panels and/or spotlight guests.
Our second CineMatters Series event is An Evening of Conscious Film with Gregg Braden on Sunday June 9, 2019 at the Sedona Performing Arts Center.
Our first CineMatters Series day-long event was Women's Voices in Action, highlighting the film THIS CHANGES EVERYTHING, on January 11, 2019.

---
Past Events and Programs
Mental Wellness Film Series
ILLUMINATE is honored to co-present two films on mental wellness, paired with compassionate community conversations. Presented at Sedona's Mary D. Fisher Theatre by Mental Health Coalition Verde Valley, ILLUMINATE & Sedona International Film Festival. 
The second film in this series, Beyond Silence, is a story about Jeff, Lauren and Lloyd, three different people who share one common experience—their lives have been transformed by speaking up for mental health. The film provides a glimpse into their lives and their diagnoses—which include bipolar disorder, schizophrenia, depression and anxiety—ultimately weaving together a story about how speaking up is key to living well.
These inspiring stories depict what mental health in America really looks like and highlights just how important it is to speak up and seek help.
BEYOND SILENCE
Date: May 19
Time: 7 pm
Location: Mary D. Fisher Theatre, 2030 W AZ-89A, Sedona, AZ

Ticket: $10 per person; $9 for ILLUMINATE members*
Tickets are available NOW for purchase. BUY HERE
*ILLUMINATE members show proof of purchase at the desk in the theater lobby for your $1 rebate.
Reviews
Beyond Silence, directed by Shaul Schwarz and executive produced by Demi Lovato, celebrates the strength, perseverance and dedication of these courageous individuals determined to break through the silence often associated with mental illness and help others along the way.
"Beyond Silence, in both its darkest and most joyful moments, shines a light on the importance of hope in the face of adversity and how friends, coworkers and even pets can make a meaningful difference." – Demi Lovato
"Stories have the power to change hearts and minds, shape perceptions and inspire action for the greater good." – Shaul Schwarz, filmmaker.
---
The first Mental Wellness Film Series film Almost Sunrise is a story about veterans Tom Voss and Anthony Anderson who take a 2700-mile trek on foot across America seeking redemption, acceptance and spiritual healing from their traumatic past.
Date: March 19
Time: 7 pm
Location: Mary D. Fisher Theatre, 2030 W AZ-89A, Sedona, AZ
Details: Film screening followed by panel discussion/Q&A (more info here)
Ticket: $12 per person; $9 for ILLUMINATE members*
*ILLUMINATE members must call (928) 282-1177 or buy at the box office (no membership discount ordering online) for the ILLUMINATE member price.
---
FREE MEMBER SCREENING: BIG SONIA
April 8, 2017, 4pm: Mary D. Fisher Theatre, Sedona, AZ
Admission: Members no charge, General Public $12
Sonia, under five feet tall, is herself a survivor—of the Holocaust. Now Sonia's most important work are her talks in schools and prisons, where her story brings middle schoolers and hardened criminals to tears. "We're going backwards", she tells them: "Hate is still growing in the world. But no matter what you've been through, you can choose who you want to be in the future." Everybody better listen to BIG SONIA.  
---
SNEAK PREVIEW: Collateral Beauty
December 1, 2016 - Sedona, AZ
December 8, 2016 - Los Angeles, CA
Sneak Preview of Collateral Beauty
Starring Will Smith, Helen Mirren, Keira Knightley, Kate Winslet & more stars
"We are all connected."   
---
SCREEN 'N CUISINE: Eating You Alive
November 17, 2016
Premiere Screening of Eating You Alive
& Three-Course Plant-Based Dinner by Chef Jason Wyrick
Co-presented by Healthy World Sedona and Sedona International Film Festival
4:00 pm, Mary D. Fisher Theatre

---
WOMEN FILMMAKERS LEADING THE WAY IN CONSCIOUS FILM
February 10th, 2016
The Sedona Women with featured guest speaker, Danette Wolpert, ILLUMINATE Executive Director
Because the dominant themes in conscious cinema are compassion, self-care, connected community and the inward journey, women filmmakers are leading the way. Join Danette Wolpert, founder of the Illuminate Film Festival, as she takes you behind the scenes of the film business to explain what it takes to usher a film from script to screen and how women are pioneering this new movement.

---
HEART OF A DOG
December 11-17, 2015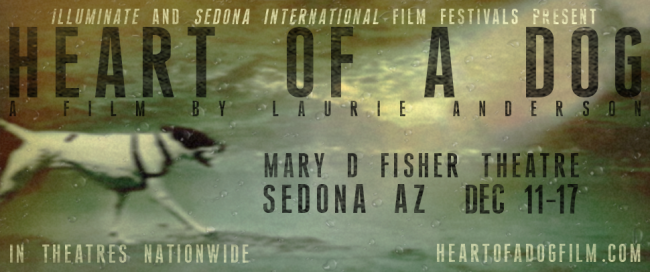 Presented by Sedona International Film Festival in partnership with ILLUMINATE
---
SCREEN 'N CUISINE: Bringing It Home
February 12, 2015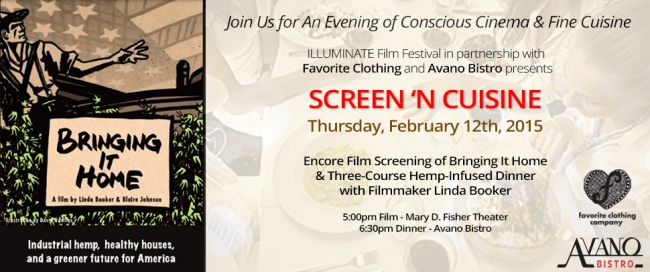 Encore Film Screening of Bringing It Home
& Three-Course Hemp-Infused Dinner with Filmmaker Linda Booker
Sponsored by Favorite Clothing and Avano Bistro
5:00 pm, Mary D. Fisher Theatre

---


FOOD CHAINS
January 11-14, 2015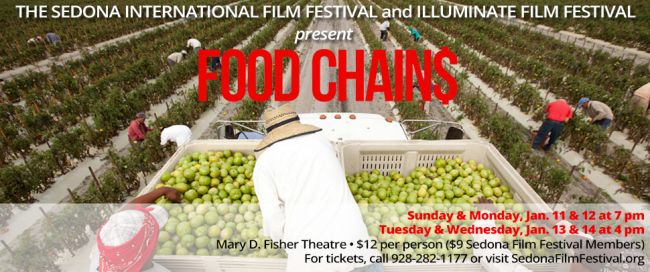 Presented by Sedona Internaitonal Film Festival in partnership with ILLUMINATE
4:00 pm or 7:00 pm, Mary D. Fisher Theatre