Year-Round Programs
ILLUMINATE features year-round screenings and programs to keep your consciousness expanded throughout the year!
Upcoming Events and Programs
Wellness Film Series
Presented by Mental Health Coalition Verde Valley, ILLUMINATE & Sedona International Film Festival.
The first film Almost Sunrise is a story about veterans Tom Voss and Anthony Anderson who take a 2700-mile trek on foot across America seeking redemption, acceptance and a way to bring closure to their time in the service.
SAVE THE DATE
Date: March 19
Time: 7 pm
Location: Mary D. Fisher Theatre, 2030 W AZ-89A, Sedona, AZ
Details: Film screening followed by panel discussion/Q&A
Ticket: $12 per person
Tickets will be available for purchase closer to the date of the event. We will announce when available. Stay tuned.
---
Past Events and Programs
FREE MEMBER SCREENING: BIG SONIA
April 8, 2017, 4pm: Mary D. Fisher Theatre, Sedona, AZ
Admission: Members no charge, General Public $12
Sonia, under five feet tall, is herself a survivor—of the Holocaust. Now Sonia's most important work are her talks in schools and prisons, where her story brings middle schoolers and hardened criminals to tears. "We're going backwards", she tells them: "Hate is still growing in the world. But no matter what you've been through, you can choose who you want to be in the future." Everybody better listen to BIG SONIA.  
---
SNEAK PREVIEW: Collateral Beauty
December 1, 2016 - Sedona, AZ
December 8, 2016 - Los Angeles, CA
Sneak Preview of Collateral Beauty
Starring Will Smith, Helen Mirren, Keira Knightley, Kate Winslet & more stars
"We are all connected."   
---
SCREEN 'N CUISINE: Eating You Alive
November 17, 2016
Premiere Screening of Eating You Alive
& Three-Course Plant-Based Dinner by Chef Jason Wyrick
Co-presented by Healthy World Sedona and Sedona International Film Festival
4:00 pm, Mary D. Fisher Theatre

---
WOMEN FILMMAKERS LEADING THE WAY IN CONSCIOUS FILM
February 10th, 2016
The Sedona Women with featured guest speaker, Danette Wolpert, ILLUMINATE Executive Director
Because the dominant themes in conscious cinema are compassion, self-care, connected community and the inward journey, women filmmakers are leading the way. Join Danette Wolpert, founder of the Illuminate Film Festival, as she takes you behind the scenes of the film business to explain what it takes to usher a film from script to screen and how women are pioneering this new movement.

---
HEART OF A DOG
December 11-17, 2015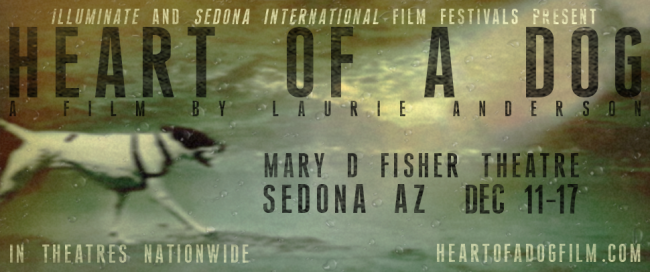 Presented by Sedona International Film Festival in partnership with ILLUMINATE
---
SCREEN 'N CUISINE: Bringing It Home
February 12, 2015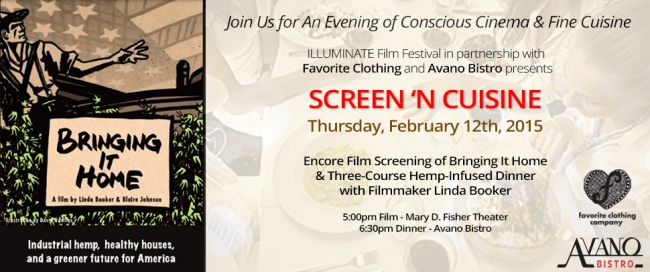 Encore Film Screening of Bringing It Home
& Three-Course Hemp-Infused Dinner with Filmmaker Linda Booker
Sponsored by Favorite Clothing and Avano Bistro
5:00 pm, Mary D. Fisher Theatre

---


FOOD CHAINS
January 11-14, 2015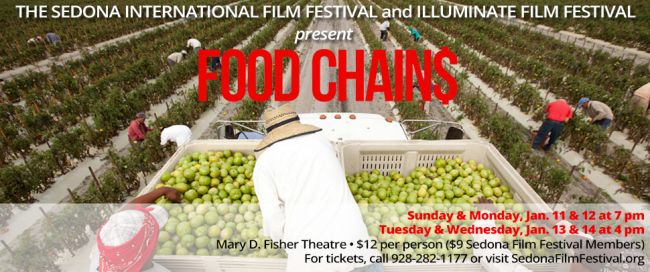 Presented by Sedona Internaitonal Film Festival in partnership with ILLUMINATE
4:00 pm or 7:00 pm, Mary D. Fisher Theatre