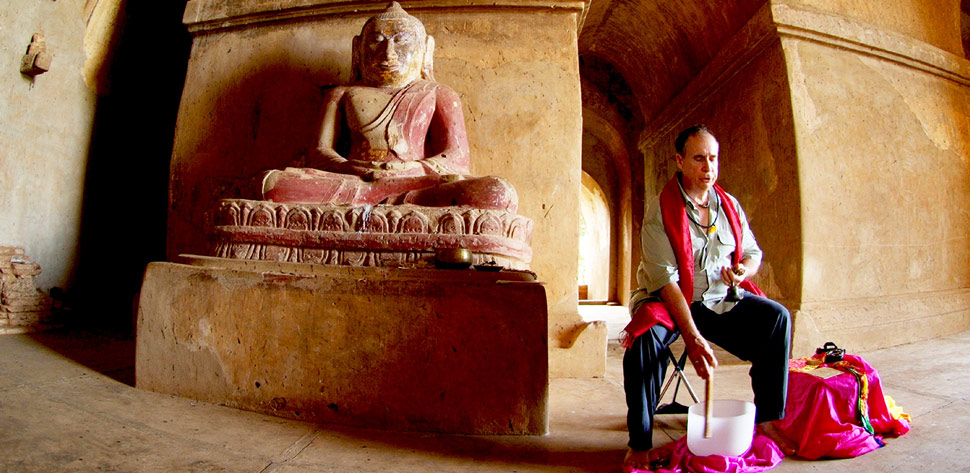 Song Of The New Earth
With Reel Healing: Sound Journey with Three Trees
Southwest Premiere

Song of the New Earth features the transformative life journey of renowned sound healer, psychotherapist and modern day mystic Tom Kenyon from a young aspiring Nashville musician to an internationally revered sound alchemist. From giant caves in the south of France, to the golden-chandeliered symphony halls of Vienna to the snowy mountain peaks of Tibet, award-winning Producer/Director Ward Serrill (The Heart of the Game, Miramax) along with Betsy Chasse, (co-producer/ What the Bleep Do We Know!?) present Kenyon's quest to integrate modern science's advances in sound research with the ancient mystic traditions of Tibetan Buddhism, Yoga, mystical Christianity, Shamanism, Egyptian alchemy and more. A visual and aural feast, Song of a New Earth provides viewers with a distinctive and intimate portrait of one man's mission to not only heal ourselves but ultimately our precious planet...Mother Earth. A transcendent, original and healing experience, this unique film transports viewers through Kenyon's rare, divine gift. 

Q & A with director Ward Serril and co-producer Betsy Chasse.
REEL HEALING: Sound Healing with Three Trees

Immediately following the film, enjoy a multi-cultural sound healing journey with acclaimed multi-instrumentalist Three Trees. Through a combination of instruments, rhythms, healing frequencies, and vibrations, Three Trees demonstrates how every cell in the body can be healed and balanced through sacred sound and vibration.
| | | |
| --- | --- | --- |
| GENRE | SCREENING VENUE | DATE & TIME |
| Documentary Feature | Sedona Creative Life Center | Sat, May 31st 1:30 pm |
Cast & Crew

Technical
Director:
Ward Serrill

Screenwriter:
Ward Serrill, Sophie Jane Mortimer, Eric Frith

Executive Producers:
Ann Mortimer, Andrew Mortimer, Stella SingingHeart, Clif Trolin, Johannes Rietschel, Rebecca Capezio, Doris Hangartner, Anne Huxtable

Producer:
Sophie Jane Mortimer, Betsy Chasse

Cinematographer:
Ward Serrill and Sophie Jane Mortimer

Principal Cast:
Tom Kenyon, Judi Sion Kenyon
Country:
United States

Run Time:
88 min

Year:
2014




Trailer