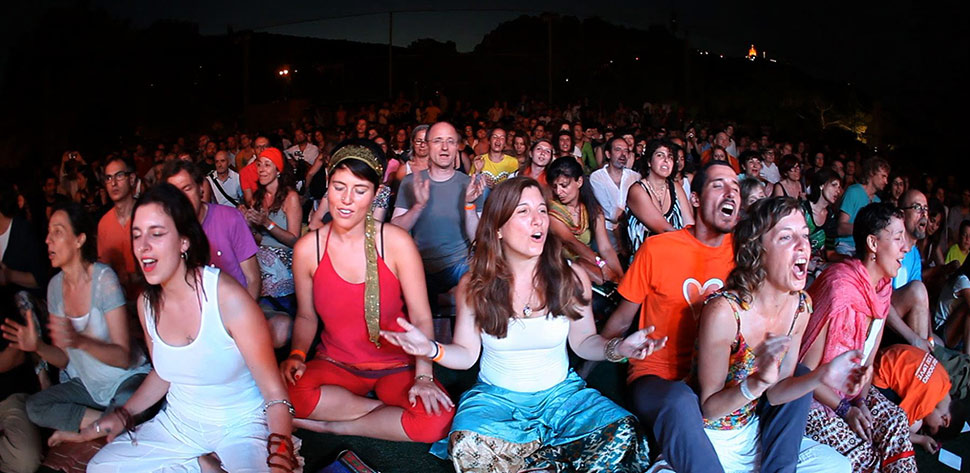 MANTRA - Sounds into Silence
Spotlight
World Premiere

Join this documentary's transformative journey of the human experience through which music is used to reach, unify and liberate even those on the outskirts of humanity. Discover the energizing movement of vibrational sound and Bhakti Yoga as it uplifts and inspires healing and peace from within. We are introduced to performers Deva Premal & Miten, Krishna Das, Jai Uttal, C.C. White Soul Kirtan, Snatam Kaur and MC Yogi, learning their practice of kirtan chanting and the transcendental experience that leaves your mind expanded and your spirit set free.
Film sponsored by:

Sedona Yoga Festival and

Bhakti Tribe
A Q&A with director Georgia Wyss, executive producer Howard Glasser, artist C.C. White Soul Kirtan and Jen Canfield from the Call and Response Foundation follows.
Preceded by: Yoga in Sedona | USA | 2016 | 9 min • Documentary Short
Directed by: Wari Om

Witness the magnificence of Sedona's spectacular red rocks in a whole new light in this inspirational film depicting the spiritual essence of Sedona melded with the practice of yoga. Yoga photographer and filmmaker Wari Om expands the light of yoga around the world with his eye for nature, human grace and spirituality. (World Premiere)
REEL HEALING: Soulful Music Immersion

C.C. White's distinct Soul Kirtan performances have won her wide recognition as "The Queen of Soul Kirtan." Embodied in one exotic, soulful being, her unique, soul-flavored chant performances effortlessly enrapture audiences, lifting their vibrations sky high with powerful, soaring call-and response vocals and masterful musicianship. From quiet and angelic, to powerful and earth moving, her heart and entire being is within every chant.
Cast & Crew

Technical
Director:
Georgia Wyss

Screenwriter:
Georgia Wyss, Daniel Arvizu, Raymond McCormack, Ward Serrill

Executive Producers:
Robert J Barnhart, Charlie Cantrell, Howard Glasser, Adina Malveklint ,Ed Ritz, Urs Wyss

Producer:
Raymond McCormack, Georgia Wyss

Cinematographer:
Wari Om, Jordi Azategui, Ismael Joyera

Editor:
Georgia Wyss

Principal Cast:
Caren Fine, Catherine Rougerie, Krishna Das, Snatam Kaur Deva Premal, Miten and Manose, Nina Rao, Dave Stringer, Jai Uttal, Gaura Vani, MC Yogi
Country:
Spain

Run Time:
85 min

Year:
2017

Language:
English