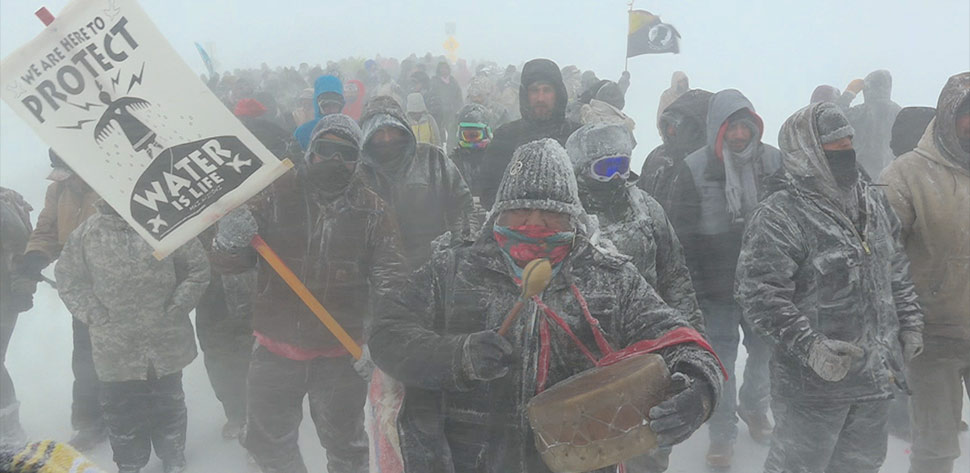 Global Spirit: Earth Wisdom For A World In Crisis
World Premiere

The United Nations in NYC is the setting for the ongoing struggle of indigenous leaders and native spokespeople from all continents, to have their rights affirmed and their messages on environmentally sustainable practices heard by this prestigious, international body. Woven through compelling portraits of indigenous leaders, "Earth Wisdom" follows the Lakota Sioux's non-violent resistance at Standing Rock Reservation, where thousands of "water protectors" and military veterans joined forces to create what has become a high water mark in Native people's historic struggle for land rights. Through the unique prism of indigenous cosmologies and native perspectives from all continents, "Earth Wisdom" weaves a vivid contrast between the bureaucratic, slow-moving "recognition" of indigenous peoples by the United Nations, and the political immediacy of the Dakota Access Pipeline protest movement. This series is hosted by Carlos Santana and Cindy Blackman Santana.
A Q&A with director Stephen Olsson and producer Lorraine Hess follows.
REEL HEALING: Earth Ceremony with Anahata

Join us on an experiential journey to connect more deeply with Mother Earth. Receive insight and guidance on how we can all be part of supporting and contributing to Her as we stand together. Blending the compassion of an angel and the wisdom of a shaman, Anahata guides us through a profound healing. Anahata is the founder of Shamangelic Healing based in Sedona, AZ.
Cast & Crew

Technical
Director:
Stephen Olsson

Producer:
Lorraine Hess

Principal Cast:
Jake Swamp, Oren Lyons, Marcos Terena, Gloria Ushigua, Christiana Saiti Louwa, Viktor Kaisiepo, Brian Keane, Tomas Alarcon, Arvol Looking Horse, David Archambault II, Philis Young
Country:
USA

Run Time:
57 min

Year:
2017

Language:
English