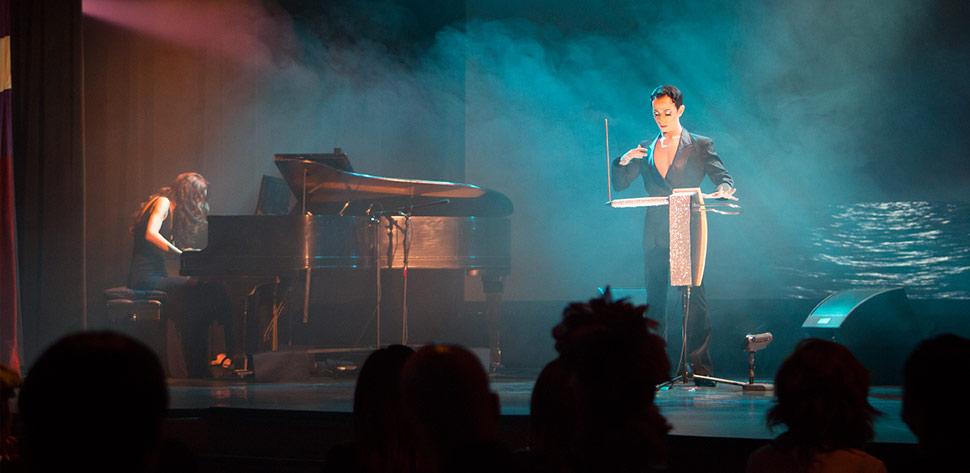 When My Sorrow Died: The Legend of Armen Ra and the Theremin
With Sound Journey Performance by Armen Ra
Arizona Premiere

The mesmerizing style of Persian-Armenian Theremin virtuoso, Armen Ra, has garnered the admiration of fans on multiple continents. He is considered one of the finest Theremin players in the world today. Captivated by Armen Ra's music, filmmaker Robert Nazar Arjoyan chronicles Armen's day-to-day life through interviews, photos, and archive videos. We are transported through Armen's earliest years as a child in Iran, to his wild time modeling and tearing up the Drag scene in New York, along with his recovery from alcohol addiction, and more. Along the way we are witnessing his triumphant transcendence into a world renowned master of the Theremin, the first electronic instrument ever made. Invented by Russian physicist Leon Theremin in 1920, it is the only instrument played without physically touching it, but rather through the vibrational interplay of human hands with its unique sensory detectors. The complex seven octave theremin is extremely difficult to play, much less, to master. For that reason it is no longer being made. Armen Ra's mastery of this other-worldly instrument puts him in a class of his own. And this film, a true sensory immersion, is also, in a class all its own.
Q&A with Armen Ra and producer Matt Huffman
REEL HEALING: Sound Journey Performance by Armen Ra

Immediately following the film, the legendary Armen Ra will perform live in an exclusive sound journey to demonstrate the healing power and hauntingly beautiful operatic sound of the Theremin. This is a unique opportunity to go into the heart of this one-of-a-kind performer. Known for both his exceptional artistry and his eccentric theatrical appeal, Ra has performed in esteemed venues including the United Nations and Lincoln Center, and has appeared on CNN, HBO, MTV and in Vogue, The New York Times, The Village Voice, Rolling Stone and Glamour. Experience Armen Ra live and in person – you will be wowed by what you hear and feel.
| | | |
| --- | --- | --- |
| GENRE | SCREENING VENUE | DATE & TIME |
| Documentary Feature | Mary D. Fisher Theater | Sat, May 31st 7:00 pm |
Cast & Crew

Technical
Director:
Robert Nazar Arjoyan

Executive Producers:
Matt Huffman

Cinematographer:
Gevorg Sarkisian

Principal Cast:
Armen Ra, Patricia Field, Amanda Lepore, Justin Tranter
Country:
United States

Run Time:
85 min

Year:
2014




Trailer