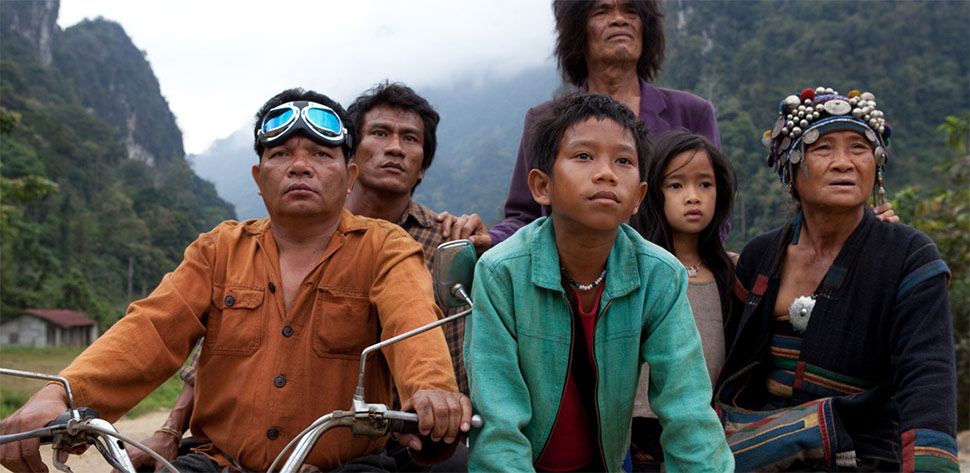 The Rocket
Encore Screening

Back by popular demand!
Australia's submission for the Academy Award, winner of the Best First Feature award at the Berlinale and Best Narrative Feature at Tribeca, The Rocket is a heartwarming, triumphant tale about challenging one's place in the family order. Ahlo is the 10-year-old surviving twin of a difficult birth and is believed to be cursed. When tragedy strikes, Ahlo is ostracized by the superstitious community, and even by his own family. He decides that his only hope of redemption is the Rocket Festival: a riotous, and dangerous, annual competition where huge bamboo rockets are set off to provoke the rain gods. Set amidst a beautiful landscape, The Rocket is a powerfully moving and uplifting film. An example of conscious storytelling at its finest.
"Endearing, gripping and heartwarming...The Best And Brightest Of The 2013 Tribeca Film Festival" - Indiewire.
"Captivating...a total crowd-pleaser, deserving of its wild praise." - CinemaBlend (US)
Preceded by: The Recyclist | USA | 2012 | 8:10 • Narrative Short
Directed by: Michael A. Ryan

Can a homeless man, making a living from recycling, pull together a romantic evening with what life and the earth have made available?
| | | |
| --- | --- | --- |
| GENRE | SCREENING VENUE | DATE & TIME |
| Narrative Feature | Mary D. Fisher Theater | Fri, May 30th 2:45 pm |
Cast & Crew

Technical
Director:
Kim Mordaunt

Screenwriter:
Kim Mordaunt

Executive Producers:
Bridget Ikin, David MacFarlane, Triphet Rookachat, Michael Wrenn

Producer:
Sylvia Wilczynski

Cinematographer:
Andrew Commis

Principal Cast:
Sitthiphon Disamoe, Loungnam Kaosainam, Thep Phongam, Bunsri Yindi, Alice Keohavong, Sumrit Warin
Country:
Australia/Thailand/Laos

Run Time:
95 min

Year:
2013

Language:
Lao with English subtitles




Trailer