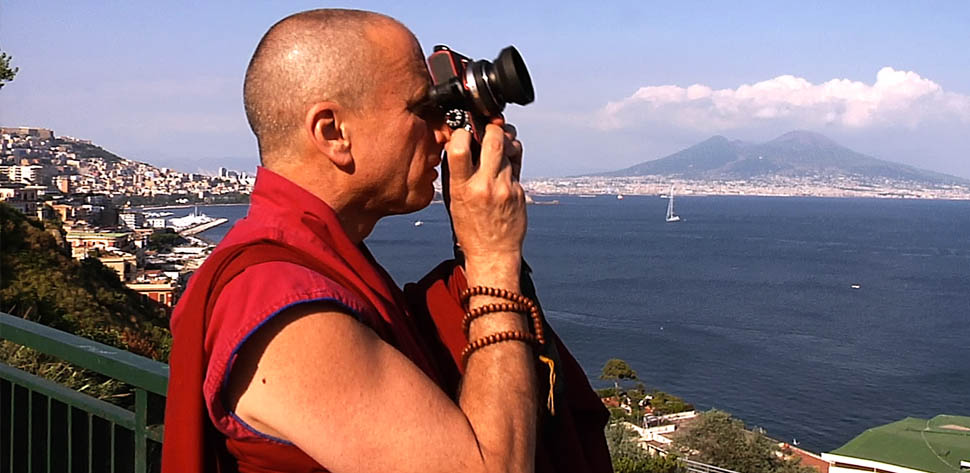 Monk With A Camera
Encore Screening

Perhaps no one on the planet possesses a more beguiling or disarming laugh than the Dalai Lama. To be in his presence and hear his laugh directed at you must be truly overwhelming. Such is the case for Nicholas "Nicky" Vreeland, sitting in a non-descript hotel room in Long Beach across from His Holiness (and Richard Gere), as the Dalai Lama laughs and makes a request of Nicky that will change the course of his life.
If you recognize the name "Vreeland," then you would be correct: he is the grandson of fashion icon Diana Vreeland. So, why is Nicky, once on the path of becoming a high-powered photographer, now in this position?
This enthralling documentary by Tina Mascara and Guido Santi ("Chris and Don: A Love Story"), grants us intimate access to Nicky and his extraordinary spiritual journey. We see behind the curtain of Tibetan Buddhism and inside the heart and mind of a man whose every step takes him further away from one seemingly pre-ordained life and toward another.
Q&A with directors Guido Santi and Tina Mascara
Preceded by: A Marvelous Power: Honoring You | USA | 2011 | 6:45 • Documentary Short
Directed by: Gary Malkin

Director Gary Malkin's beautiful music, coupled with stunning cinematography, and Bob Proctor reminding us how powerfully our innermost thoughts can influence our lives.
| | | |
| --- | --- | --- |
| GENRE | SCREENING VENUE | DATE & TIME |
| Documentary Feature | Mary D. Fisher Theater | Sat, May 31st 12:00 pm |
Cast & Crew

Technical
Director:
Guido Santi and Tina Mascara

Executive Producers:
Vishwanath Alluri, Leonardo Colla, Andrew Herwitz

Producer:
Vishwanath Alluri, Signe Johnson, Tina Mascara, Guido Santi

Cinematographer:
Ugo Lo Pinto, Ralph Q. Smith

Principal Cast:
Nicky Vreeland, The Dalai Lama, Richard Gere, Khyongla Rinpoche
Country:
United States, India

Run Time:
90 min

Year:
2014




Trailer