Conscious Film Convergence
What is Conscious Film Convergence?
If you are involved in the conscious film industry as a writer, director, producer or in any area from production to distribution, the Conscious Film Convergence (CFC) is for you. Held annually at the Illuminate Film Festival in Sedona (May 31 - June 4, 2017) this film industry gathering is dedicated to evolving the conscious cinema movement into a global phenomenon.
The Convergence brings industry leaders from around the world to present workshops and presentations in areas of importance to aspiring and established filmmakers. You'll meet funders, distributors, directors, writers and other movers and shakers in the industry in an up close and personal venue. This is the world's premier event dedicated to elevating the world's collective mind, body, spirit and environmental consciousness through cinema. The event is comprised of master classes, panel discussions, a mentorship program, nightly parties where you can mingle with presenters, and the most compelling conscious cinema of the year as curated by the ILLUMINATE Film Festival.

SAVE THE DATES: Convergence 2017 takes place Friday June 2nd through Sunday June 4th.


Conscious Cinema Accelerator
Each year, six to seven mind, body, spirit films-in-progress are selected to participate in a mentoring program. If your project is chosen, you will have an opportunity to get one-on-one advice from industry leaders. This is a rare opportunity to get a giant head start on your project. Click on the FilmFreeway entry button below to apply. The extended deadline for submissions is April 12, 2017.
The Conscious Cinema Movement Has Reached a Tipping Point
According to a study by Sparks & Honey in partnership with Gaiam TV, more than 100 million people in the United States are hungry for information on how to grow spiritually and live in harmony with other people, other cultures and the earth.
Conscious concepts, once trivialized, are becoming mainstream thanks to moguls like Oprah, Russell Brand, Deepak Chopra, Russell Simmons and others. Production values have dramatically improved as veteran filmmakers enter the conscious media space and novice filmmakers continue to hone their craft. These developments, as well as technological advancements in everything from camera gear to social media tools, have democratized our ability to produce, market and distribute conscious content.


Who is going to be there?
Hosting filmmakers, producers, distributors, marketers, publicists, financiers and brands invested in the creation of conscious content, Conscious Film Convergence is a one-of-a-kind opportunity to exchange and network with like-minded professionals.


KEYNOTE SPEAKER:

Louis Schwartzberg award-winning Cinematographer, Director and Producer

Henry Arlander,
Managing Director,
Pereira & O'Dell
Jim Browne, President,
Argot Pictures
Sandra de Castro Buffington,
Founding Director, UCLA
Global Media Center for Social Impact
Billie Goldman, Global Campaign Manager, Intel
Elizabeth Sheldon,
COO, Bond/360
Lydia B. Smith, Filmmaker, Walking the Camino: Six Ways to Santiago
Dan Truong, AVD Filmmaker/
Evangelist, Amazon Video Direct
Mark Urman, CEO, Paladin
KEYNOTE: LOUIS SCHWARTZBERG
CATALYZING POSITIVE CHANGE IN TRYING TIMES
In an increasingly divided world, how do creatives use the art of cinema to bridge our differences with empathy and integrity? Drawing from personal experience, director and time-lapse pioneer, Louis Schwartzberg ("Gratitude Revealed") offers timely insight into how filmmakers can create the shift in consciousness needed to sustain and celebrate life.
STORYTELLING FOR CONSCIOUS IMPACT
How do filmmakers address conscious themes in a way that mainstream audiences can hear and absorb? Sandra de Castro Buffington Founding Director of UCLA's Global Media Center for Social Impact leads a discussion between filmmakers and scriptwriters who are communicating deeper messages to mainstream audiences.
INTUITIVE FILMMAKING: Walking the Camino Case Study
How can an intention of creating the highest and greatest good amplify your results in film fundraising, directing, promotion and distribution? When making her award-winning, theatrical hit documentary, Walking the Camino: Six Ways to Santiago, filmmaker Lydia B. Smith put into practice spiritual learnings that paved the way to a $1.6 million theatrical gross worldwide. Hear her remarkable journey.
BIG BRANDS, BIG MONEY, CONSCIOUS CONTENT
Brands like Intel, Samsung and Dove are aligning with media makers and creative agencies to engage audiences to use their influence for social good. Illuminate speaks about these new trends in financing and marketing with Billie Goldman, Global Campaign Manager at Intel and Henry Arlander of the award-winning agency Pereira & O'Dell.
DISTRIBUTION EVOLUTION
Digital distribution has thrown traditional release strategies out the window. Hear from distribution experts about the new models they are using to find successes through DIY, hybrid, and all rights distribution. Joining us are Elizabeth Sheldon, COO, Bond/360; Mark Urman, CEO, Paladin; Jim Browne, President, Argot Pictures; and Dan Truong, AVD Filmmaker/Evangelist, Amazon Video Direct.


Attend with a Convergence Pass
Convergence Pass benefits include:
Unlimited Conscious Film Convergence panels and conversations
Tickets to 3 film screenings of your choice
Access to VIP parties and receptions: Wednesday Launch Party VIP reception, Thursday Opening Night Party, Friday Sedona Experience and Saturday Spotlight Soiree
Priority ticketing period
$289 Regular Price,  Early Bird Price until April 10, 2017 $249.

Attend with an All-Access Pass
An All-Access Pass includes all of the above and tickets to all 22 film screenings. $444 Regular Price,  Early Bird Price until April 10, 2017 $349.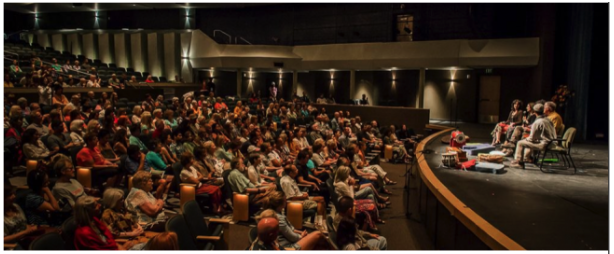 Conscious Cinema Summit
Sunday, June 4, 2017 • By Invitation
Conscious film industry visionaries and media change-makers come together to discuss how conscious cinema can become a viable business sector within the independent film business. Invited guests gather to define "conscious" cinema, imagine new business models and brainstorm new strategies for collaboration to increase the quality, quantity and availability of conscious cinema around the globe.