Collateral Beauty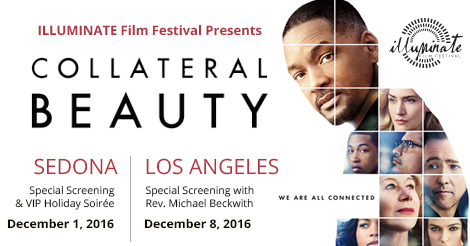 Warner Brothers tapped ILLUMINATE to host Sneak Previews of the upcoming major motion picture release COLLATERAL BEAUTY, starring Will Smith, Edward Norton, Keira Knightley and Oscar winners Helen Mirren and Kate Winslet.
This is a major coup for ILLUMINATE and for Sedona!
The  ILLUMINATE and Warner Brothers Pictures sneak previews took place in Sedona on December 1st and in LA (Culver City) on December 8th.
COLLATERAL BEAUTY opens on December 16th - so let's show Hollywood that there is a market for conscious films by watching the film on opening weekend!
Sedona, Flagstaff, Prescott and Scottsdale openings are at Harkins theaters. Everyone else, check your local theater schedule!
After viewing the movie, write your own letter to the universe HERE!