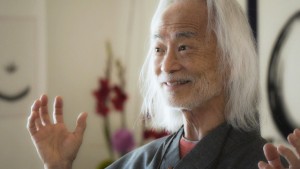 By Shaeri Richards Coordinator of Conscious Film Convergence
To touch the heart and uplift the spirit: This has always been my motivating desire as a writer, journalist and filmmaker. Back in the late '80s when I made my first documentary film, the idea of spiritual or conscious cinema was relatively unheard of. Yes, there were films that touched our hearts, but with Hollywood as the center of film production and distribution, there was little chance of a spiritual or conscious film being financed, let alone distributed through any traditional channels. It wasn't until 1989 that theater chains realized they could even draw in an audience for a documentary screening. The possibility of success in that arena became clear with Michael Moore's groundbreaking film, about the closing of General Motors factories and the impact on his home town of Flint, Michigan: Roger and Me.

For me, the door opening breakthrough film for spiritual cinema was What the Bleep do we Know, in 2004. I was honored to introduce the film at the Sedona International Film Festival that year where it won the Audience Choice Award – Most Thought Provoking Film. With its original format, combining a narrative story structure with documentary style expert interviews, this exploration of the connection between consciousness and quantum physics took off like wildfire. By virtue of word-of-mouth and sheer audience demand, the film was able to make its way to 200 theaters and remain in demand on the silver screen for the better part of the year. After grossing $10 million in the U.S. and $16 million worldwide, theater owners everywhere had proof that conscious cinema could be profound AND profitable.
In 2014, I made my second documentary with my husband, Jerry Hartleben, who's had a successful career as a cinematographer for commercials, TV series and indy film since the mid 70's. We combined talents to create the film Moving from Emptiness: The Life and Art of a Zen Dude. We premiered at the Sedona International Film Festival in late February and were selected by 9 additional festivals, including the Awareness Film Festival in Santa Monica, California, Spirit Film Festival in Tel Aviv, Israel, and the International Festival for Peace, Inspiration and Equality in Jakarta, Indonesia. With spiritually oriented film festivals sprouting up world wide, it's becoming a whole new world for conscious film making.
As we were pondering our on-going distribution strategy, we were delighted to be invited to attend the first annual Conscious Film Convergence, a special series of panels developed for conscious filmmakers at Sedona's Illuminate Film Festival 2014. The panelists, (including Betsy Chasse, co-writer-director-producer of What the Bleep do we Know?) were informative and enlightening. At these sessions, we learned how marketing and distribution for film has changed in the last few years. There has been a revolution in the methods of reaching an audience, mainly because of social media. With crowdfunding, on-line streaming and theatrical on demand, the possibilities for finance and distribution have multiplied for the independent filmmaker. We came away with so many thought provoking ideas and new understandings of just how to get a film out into the world these days.
Theatrical on Demand was a particularly intriguing concept for us. In this distribution strategy, a filmmaker is able to book their film into traditional multiplex theater chains across the country like AMC or Cinemark. The theater reserves the date for your film, and you (the filmmaker) have up to one week before the screening to get your audience to reserve tickets in advance. Once the minimum number of tickets is reserved, the screening date is confirmed and you're on.
We conducted our campaign through TUGG, an industry leader in Theatrical On Demand. Although the marketing required for our campaign was time intensive, we were able to set up a number of successful screenings this way, the majority of them to "sold out" audiences. This helped create name recognition of our film in several key cities and allowed us to build a following of loyal fans. I'm excited to report that representatives from both TUGG and GATHR (another company specializing in Theatrical On Demand) will attend this year's Illuminate Film Festival to scout films and participate in Conscious Film Convergence 2015.
We have now moved to on-line distribution via DVD and VOD. With the proliferation of "smart" televisions and numerous devices that can stream video anytime, anyplace, the online world offers a plethora of ways that a film can find its audience. Utilizing an engaging trailer combined with highly targeted Facebook advertising, we have been able to reach an interested audience worldwide and are finding that our film is selling well. We hope to recoup our investment costs in the next few months and if the current trend continues, our movie will generate profits for us by the end of the year. I invite you to watch our trailer and learn more about the film at Zen Dude Movie.
You'll be hearing more from me, especially if you follow this blog as I've taken a role as the Coordinator of Conscious Film Convergence 2015. This year's CFC will feature panels covering topics such as crowdfunding, marketing and distribution and will be an ideal place to network with film industry champions of the conscious cinema space. Whether your film is in the idea stages or ready to make its way into the world, you're invited! Purchase your pass to CFC 2015 here.