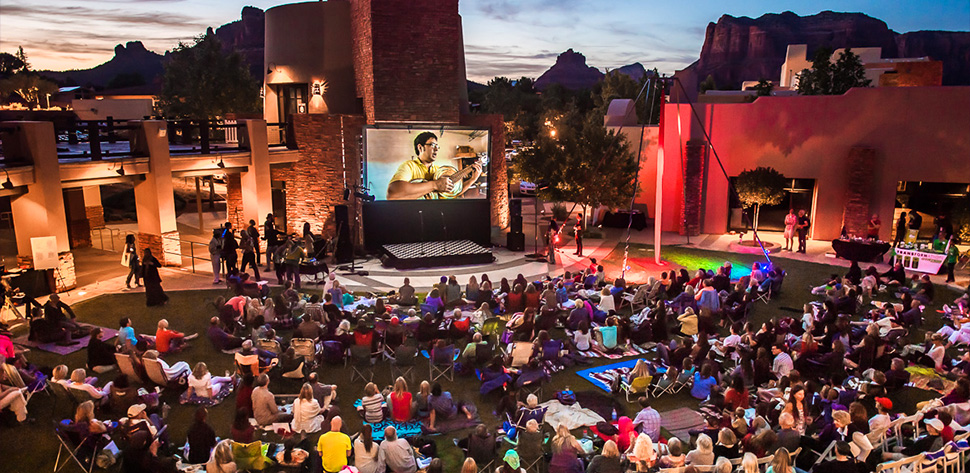 ILLUMINATE Launch Party and Outdoor Movie - FREE
Screening of Be More
Work-In-Progress

| | | |
| --- | --- | --- |
| GENRE | SCREENING VENUE | DATE & TIME |
| Documentary Feature | The Collective Sedona | Wednesday, Jun 1, 6:30 pm |
The storytelling magic begins under a starlit Sedona sky.
Bring a blanket and we'll supply the fun! Enjoy a spectacular night's entertainment under the stars at The Collective Sedona. There's lots to explore here: Indulge in healthy food from our favorite local eateries and check out the cool shops. Then kick back as we kick off the festival with our free music, moves and movie.
Get ready for an epic, four-year journey that culminates in one incredible week of inspiration and life changes. In 2011, seven artists and activists decided to create a more compassionate world. How? By transforming the lives of 20 teenagers in seven days. Joaquin Phoenix narrates as everyday teens travel cross-country to attend CAMP MORE. Despite fear, they confront their toughest issues: family trauma, gender identity, bullying. They dive deep, showing us the spiritual and healing power of sharing.
Justin C. Haulbrook, the director of the evening's film, will perform, as well as our very own local musicians Adalia Tara Middleton, Poranguí and Näthan Gangadean. You will be dazzled by the incredible feats of Brandon Scott, flow artist extraordinaire. Later, listen for your name as we award fun prizes, then just as the stars begin to come out, we will screen Justin's film, Be More. This night we launch our collective journey to higher consciousness. Don't miss it!
Free and open to the community
Food and beverages for sale
Complimentary reception for Badgeholders, 6:30 – 8:00 pm
Join us for a Q&A with director Justin C. Haulbrook as we look at how everyday heroes change the world.
Cast & Crew

Technical
Director:
Justin C. Haulbrook

Screenwriter:
Justin C. Haulbrook, Mark Soraparu

Executive Producers:
Justin C. Haulbrook, Sierra Dowd, Heart Phoenix, Jeffrey Weisberg

Producer:
Mark Soraparu, Carrie Wiltshire, Aileen Getty

Cinematographer:
Dylan Cashbaugh, Irvin Lui

Editor:
Jason Pachomski

Principal Cast:
Justin C Haulbrook, Heart Phoenix, Jeffrey Weisberg, Ali Stroke, Dani Shay, Sierra Dowd, Declan Nolan, Kariel Young, Jamie Myre, Laquan Boland, Nicole Medina
Country:
USA

Run Time:
80 min

Year:
2016

Language:
English